Why Do We Use Backpack Banners Flags For Walking Advertising?
Backpack Banners Flags are an innovative advertising methods for parade advertising and walking advertising outdoor, literally it works with someone carrying a special backpack as there would be a banner flag with LOGO printed on the corresponding position on the backpack. Sublimation printing technology for the LOGOs on the banners flags is widely used.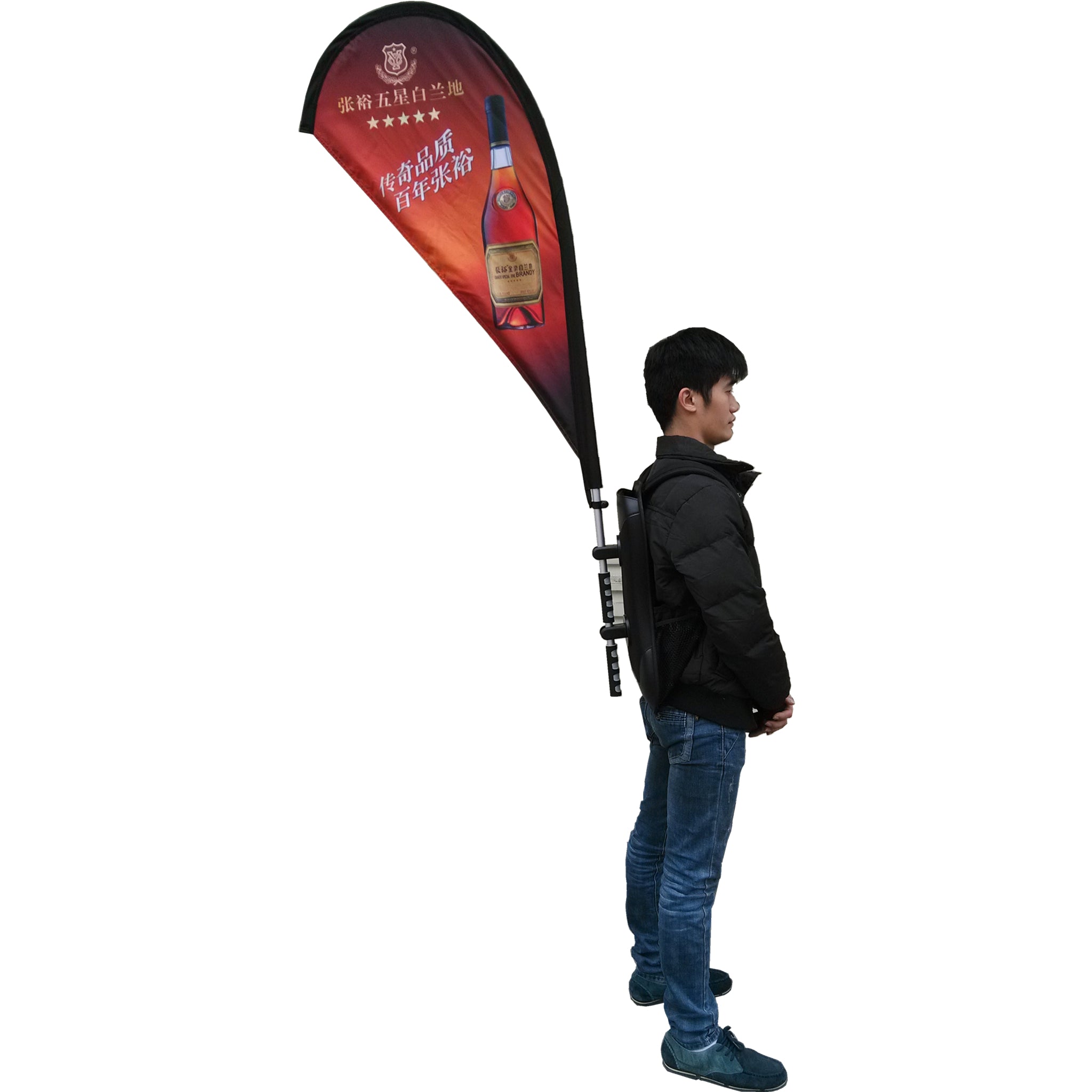 Generally a backpack banner flag is including the following parts
Backpack - special design in PE material (plastic), high toughness meanwhile light to carry. Mastic - flag pole in better material, in general it's fiberglass which is lighter and stronger, with high toughness & tenacity.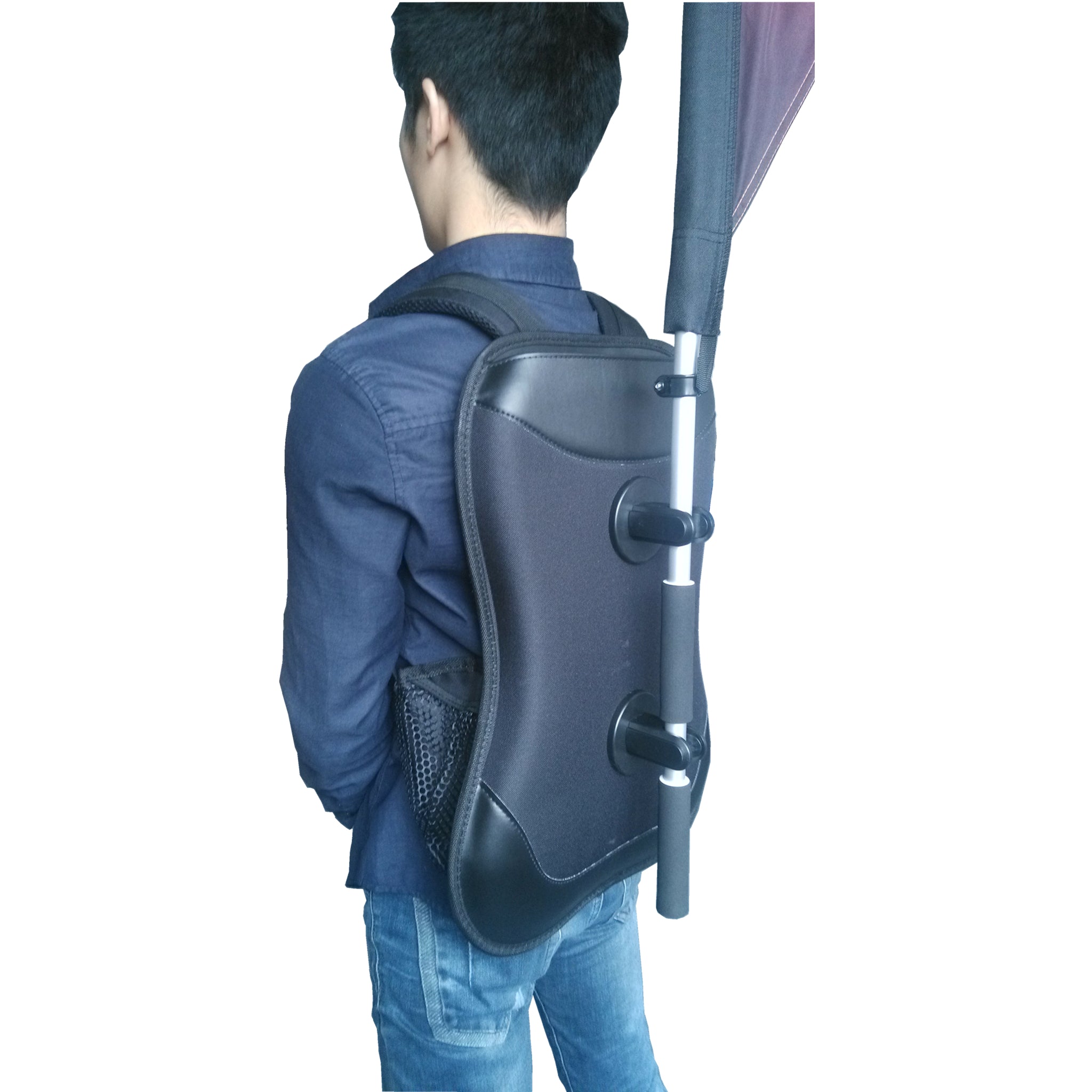 Banners & Flags - there are 3 styles of banners flags for your option. Feather Flags (125cm-54cm) + Teardrop Flags (110cm-55cm) + Rectangular Flags(113cm-45cm), double sided printed with sponsor's LOGO, with 3D digital printed mostly sublimation printing is used nowadays, help your Logos demonstrated to people meters away.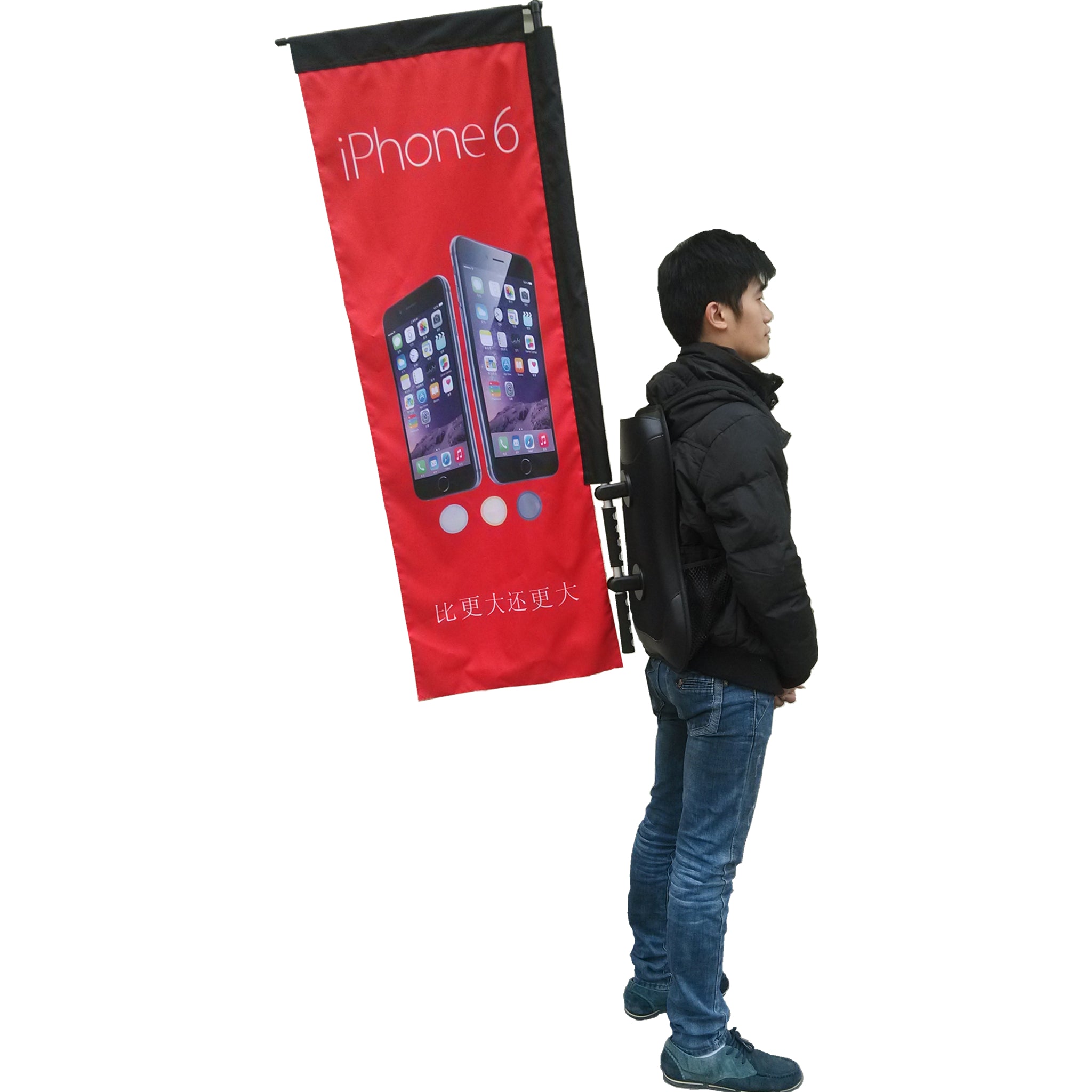 Accessories - plastic parts, aluminum connectors, textile belts, which help to hope the banner flag installed sturdy on the backpack. 
here comes the point,
why using backpack banners flags for parade advertising walking advertising? Talking about walking advertising or parade advertising, at first glance people will think about using a truck with branded logo printed outside the bunkers, driving slowly on the street with loudspeaker roaring to attract the public's attention.
Aiming to soaring the brand known by the people in the public. But there would be a problem to do walking business inside the mall or at the plaza where there are multitude of peoples walking, truck with advertising cartels & posters are no permitted to enter these places.. There comes backpack banners & flags to avoid this puzzle about how to advertise inside the mall in form of parade advertising or walking advertising. Advantages of using advertising backpack flags & banners.
1) innovative design which are curious for people in public
2) flexible to carry in the public as you could carry in passing the multitude in the plaza
3) low cost - really low cost comparing to using a moving truck with printed poster outside the bunker
4) users are common people, now skilled people are request, everyone could carry it for walking on the street
5) backpack banner no limited, you can display whatever your favor signage with it. No paper works required in advance. 
Material We Use For Your Backpack Banners Flags: 110D special textile/fabric which are optimal for banners & flags.
Backpack Banners & Flags Style: Teardrop Banner Flag  Feather Banner Flag Rectangular Banner Flag If you are having another idea for example thinking about another advertising banners flags for your backpack, please inform us or visit us to our categories of Flag Set. Your innovative idea is highly appreciated by our experienced banner & flag designers.
---